A farmhouse coffee table is one of the most important furniture pieces in a rustic living room. Aside from a spot to keep the remote controls, your coffee table can become a centerpiece and uplift your living room. Upgrade your coffee table by adding some decorations so that it looks different from the other pieces in your home.
A coffee table is a focal point of your house and it can be an anchor to your sofas, armchairs, and even ottomans.
Coffee tables can be decorated using books, beautiful decorations, unique accessories, decorative flowers, and candles.
Your coffee table decor highly depends on your existing theme or style. What you decide to do with the coffee table should at least complement your space.
If you have a rustic style, modern or farmhouse style, you will find a way that will help you decorate your coffee table and uplift the look of your space.
There are great ideas for everyone, whether you have a wooden coffee table or a glass coffee table. You're going to learn how to uplift the face of your coffee table.
How to decorate a farmhouse coffee table
There are dozens of coffee table decor ideas on the net and you might get overwhelmed not knowing what to do. In the list of ideas we have in this article, you will get some inspiration on how to decorate your side table, center, and end of your coffee table.
1. Decorative dublin balls
Add a rustic charm to your space with a tray of Dublin balls. You can use this coffee table decorative tray on any theme, modern, farmhouse or even contemporary themed living room.
The balls can spruce up your living room and your dining room because they can be used as a centerpiece on a dining table.
This Dublin tray from Creative Scents tray has three balls made from heavy resin, so they don't rust. The tray has protectors at the bottom to protect it from scratches and also to prevent the balls from rolling off the table.
If you've been looking for cute accessories for your coffee table, then you won't go wrong with this tray.
2. Farmhouse books coffee table decor
Coffee-table stacked books decor is another great way of upping your coffee table's game. Add a bunch of three farmhouse books on your coffee table and grab the attention of your visitors.
You can have the book customized with special letters/personal notes. We love the way these three farmhouse books are tied together with a rope loop. A great addition to your coffee table and even small tables at the corners of the house.
You can purchase the books or try out a DIY project and make ones that accentuate your coffee table perfectly.
3. Glam it up with a gold candle holder
Setting up candles on top of a coffee table is a clever way of decorating it while illuminating the room. But you can go a notch higher by adding these cute gold candle holders as centerpieces on your coffee table, dining table, or side tables.
These geometric gold tea light candle holders are made of metal and you can also use them for shelf decor or place some air plants in them and have a cute space with some nature in it.
Possibilities are endless with this pair of farmhouse coffee table decor piece. You can use them for decorating tables at events and have a glammed-up party.
What we love the most about this coffee table decor pair is that it blends in with any style or theme so you don't have to worry about it clashing with your house theme.
4. Minimalist heart-shaped coffee tables
Gone are the days when rectangular coffee tables were the best. You can have a custom-shaped coffee table or two and make your living room space unique.
These heart-shaped coffee tables feel this room with so much love and we love how the coffee table decor here is super minimal.
The yellow eye-catching decorative offbeat statue matching the throw pillows makes this space look super cute.
5. Consider an eclectic style
Did you know you can brighten up your space with some brightly colored flowers? These two modern wooden coffee tables with metallic legs make the space look cute. We love how the glass flower vase and a planter with faux plants upgrade the beauty of this living room.
Go from low to high with unique elements of different heights and accents for an electric look at the center of your space. Consider different shapes with metallic and gold colors.
6. Small table decor ideas for your glass table
Before we even talk about the coffee table decor, let's start with the coffee table. There's no doubt that the coffee table is a statement piece in this space.
Glass coffee tables are usually cute and they make living rooms look luxurious. Having one with a marble base will definitely make a statement to your guests.
The arrangement of the room is simple, and the theme is easy to fall in love with. The farmhouse coffee table decor piece is also minimalist to match the style of the space. Adding white and creamy statement pieces with some plants with some greenery gives life to the space.
7. Galvanized decor
Glass coffee tables are becoming a trendy addition to living rooms. This cute square coffee table is decorated with beautiful flowers in a galvanized pot. The multi-colored books on the lower part of the table add some contrast to the space.
If you want to achieve an all-white decor, you can go with white flowers and white books on the lower part of the table.
8. Gorgeous vases
You have unlimited options of choosing the type of coffee table you want in your living room. You can decide to be unique and get a pallet coffee table for your living room.
A rustic woven tray on the coffee table can help you organize your tablespace. Add two vases of different sizes. A small planter with faux plants on the tray can help spruce up the coffee table too.
9. Get an ottoman in place of a coffee table
An ottoman can become your focal point and take your decor style a notch higher. A tufted ottoman can be used as a coffee table or a nesting coffee table.
Choose a tufted ottoman that is in the same color palette as your furniture so that it doesn't crush the consistency of your living room.
This neutral earthy space looks simple yet so elegant. Keep it minimal with the decorations on the ottoman. A small tray with a small planter and small plants can give the space a fresh look.
10. Spruce it up with a blue floral runner
Runners are mostly used in formal or informal settings mostly when decorating tables at events and our dining tables back at home. Ever thought of having one on your coffee table?
You will be amazed how the table will turn out if you choose the right colors and the right patterns. Make a statement with a floral printed runner that complements the couches and the curtains. 
You can go a notch higher with the styling and arrange some decorative elements on the coffee table to create a modern living room space.
11. Rustic glass coffee table with a sporty twist
If you're the person who loves using neutrals to pull elements together, then this theme will help you gain inspiration for your dream living room.
This modern living room combines natural and modern elements to create a fresh, yet textured space. The greenery on the coffee table and fireplace complement the furniture.
12. Make a statement with a unique rug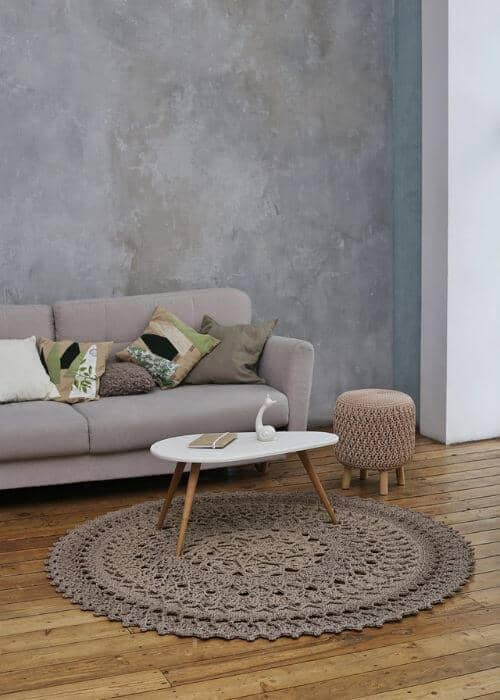 Create a modern-vintage look with a small farmhouse coffee table with a white top. Decorate it with an equally unique giraffe centerpiece.
And best of all, if you're into knitting consider making a large area rug that really complements the sofa. I love this unique space.
13. For the minimalist
You don't need an enormous coffee table for your living room to look stylish. A small black coffee table or a nesting table with half gold legs can be a great addition to a minimalistic living room.
Some living rooms don't have a coffee table and some people prefer side tables to main coffee tables. You can add this as a side table or a centerpiece in your living room.
You can record the tables with some antique elements of different heights. A dry black painted plant on the coffee table brings elegance to the room.
14. Elegant decor for an elegant living room
You don't want to complicate things by adding lots of decorations on your coffee table if your living room has different textures. Add a round white flower vase with some greenery and some decorative accessories.
The square black table breaks the monotony in this white-filled living room with multiple textures. You can add a book or two on top of the table.
15. Galvanized farmhouse planters
If you're working with minimal space, you wouldn't want a huge coffee table. This small white round coffee table is a deal-breaker, and it adds so much elegance without having to add heavy decor.
Sometimes people find it hard to decorate small coffee tables because the space to work with is small. However, you can get small planters with some faux plants or succulents and decorate the coffee table.
You might also face some challenges when decorating your nesting or side tables. The trick is to embrace simplicity, and you'd love how the place turns into.
16. Stacked book decor for a round table
Another clever way of decorating the coffee table is by using stacks of books. You can easily transform your living room area from a basic to a luxurious room with any of your favorite decor books.
If you want to be on the trend, consider Coco Chanel decor book. Most interior designers love this book and we guess it's because of its timeless vibe with black and white color.
You can add a beautiful decor piece at the center of the books for a modern texture.
17. Try black decor on a rustic table
If you are trying to play with black and white, then you can anchor your living room with a solid wood coffee table and add two black side tables on one side of your couch.
A wooden tray on the coffee table with a black chain and the small black vase on top of a decor book add a statement to the room. Add a natural touch to the table with a green plant.
The black side tables don't need any heavy decorations, just a white vase with a plant and you get a natural style effortlessly.
18. Geometric gold metallic decor piece
If you're a minimalist and don't want too much on your coffee table, then you might gain inspiration from this minimalist living room. Geometric pieces add an industrial accent and they blend in well in different arrangements.
You can use this piece of art as a flower vase and add some small flowers or faux plants for a fresh look or put a candle in and lighten up your room. You can display this piece of decor in any setting, whether colorful, vintage, or neutral modern style.
19. Branch decor on a stack of books
Create a cozy space with a large black couch and a black side table for your juices while catching up with your favorite shows. A white coffee table in the living room will anchor the space and bring out a beautiful black and white texture.
Complete the look by decorating the table with farmhouse books and a clear glass jar as a vase. Usually, people use green or bright colored live flowers to decorate their coffee tables. However, you can decide to be unique and add a dry plant to the vase.
A small white and silver round accessory and a bowl at the center on top of a wood surface will add some style.
20. Create an eye-catching space with a unique coffee table
Turn your decor game from basic to pro with this Celaya solid wood coffee table. The table perfectly complements and adds an accent to any living room arrangement.
Decorate this unique coffee table with a white vase in a round wire and wood tray. The wire tray with a wooden surface helps keep your coffee table organized because you can arrange multiple candles in or any other small decorative accessories.
21. Keep it neutral
Neutral colors are slowly dominating the world and most spaces seem cleaner with a neutral finish than busy multi-colored arrangements.
Pick decorative accessories with different shades of warm pink with different shapes and heights. A pink flower is ideal for a natural touch.
22. Trunk coffee table with vintage kettle decor
Bring the old days back in your living room by repurposing an old storage box to a coffee table. Add some vintage décor pieces to the table and create a fresh modern farmhouse accent.
You don't have to throw away your old age furniture because it can be repurposed and fit in different arrangements.
You can also repurpose old jars into flower vases and mix them up with vintage pieces of art.
23. Add pinecones
A natural wood coffee table with metal legs can make your living room look stylish but it will look greater with natural elements on it.
Get a faux wood slice and accessorize it with two large pine cones and a clear fishbowl. Fill the fishbowl with white sand and some faux decorative grass for a complete look.
24. Combine a few ideas
How about having two square coffee tables aligned together? We love how these two brown-top square coffee tables complement the stylish living room.
Add a books stack on one table and a brown bowl like a planter. On the other table, a planter with lots of greenery can create a fresh atmosphere for your family. Play with elements of different textures to achieve a stylish space.
25. Pineapple decor for table
If your living room is already busy, pineapple farmhouse coffee table decor could be what your space needs. A simple coffee table with golden legs will be a perfect match to your multicolored decor.
The decorations should be minimal. Don't fill the table with stacks of books, flower vases, and bright colored flowers. White ornamental elements will do a perfect job in flattering the space.
Frequently asked questions on Farm coffee table decor
1. What makes a good centerpiece?
It's good to mix tall and short centerpieces to create a vibrant atmosphere. The tall centerpieces make the ceiling in the room appear high while short centerpieces generally create an accommodative atmosphere.
2. What can I put on my coffee table?
Most people get stuck on choosing decorative objects for their coffee tables. You can use vases, jars, flowers, dry plants, twigs, a stack of books, candle holders, or a try for an organized look.
Upholstered ottomans create a visual interest just the way they are. However, you might want to spruce it up. You cannot add heavy decorative pieces because they'll create a busy space. A runner and a tray can make a great difference.
3. Can I put a runner on a coffee table?
Yes, you can put a runner on your coffee table for a formal and informal setting. Runners can also be used on side tables, buffets, and even tea carts. Bright colored runners create a texture and create interest on the coffee table so using one bright colored runner can be a clever idea.
4. What can I put in a tray?
You can put flowers, candles, sculptures, faux plants, personal conversation objects that tell a story about you, and other decorative objects that give your space a textured feel.
Whatever you put on the tray, ensure that the objects are not of the same height or color for visual interest. For special seasons or occasions, you can add seasonal decor pieces.
5. How can I decorate my side table
Don't give the coffee table all the glory, try to decorate your side tables too to create harmony in your living room. You can lighten up the tables with a stylish lampshade, books, a tray, your treasures, or even create a little storage. You can also add greenery with a stylish vase or add some flowers for a bright and fresh atmosphere.