A kitchen will not be complete if you don't get the perfect lighting for it. One of the areas that you need to pay close attention to is the kitchen island.
This is because that is where you will do most kitchen chores, especially food preparation. Your family also gathers around the island for dinner and catch-up moments and therefore there is a need for a good lighting fixture.
If you have been wondering which pendant light you can go for, here is a list of the best pendant lights for a kitchen island.
Farmhouse Kitchen Island Lighting Ideas
1. Mini Antler pendant light farmhouse pendant
This kitchen island light will not only illuminate your kitchen but will also elevate its style. The hanging light is made for both indoor and outdoor usage thanks to the Resin metal that has made it.
With its main part being already pre-installed, you'll have an easy time installing the unit. You only have to screw it on the outside, adjust the height and do some wiring.
The unit's length is adjustable and it fits well in parallel or sloping ceilings. Investing in this pendant light would be a great idea.
2. Farmhouse pendant lighting industrial light fixture
Grace your kitchen with one of the best dimmable and adjustable pendant lights. It is made of iron and will make a statement in your space thanks to its style.
The light bulbs are caged in a geometric shelter boasting a black finish. This pendant lighting will brighten your space with the emission of an aesthetic glow.
Additionally, it doesn't rust and you will have it for a long time since it's made of durable iron finished with a core paint. Bring a modern touch and lighting to your kitchen island by buying this unit.
3. Licperron vintage industrial pendant lights
Another simple and modern pendant light is the Licperron shade. It is AC-powered, adjustable, and has the best hanging lights. You can trust its workmanship and durability since it is painted with high-quality baking paint.
Its industrial pendant design makes the lighting fit in any modern setup thus transforming your kitchen island by adding a sleek touch.
The bar hanging lights are also easy to install and do not require any on/off switch. Besides, the package comes with all the installation hardware.
The best part about these pendant lights is that they are versatile and will serve their purpose in restaurants, bedrooms, living rooms, and bedrooms.
4. Dewenwillis farmhouse pendant light
This pendant light fixture is the best you can have for your kitchen, bedroom, entryway, or bedroom. It's made of iron and will generously transform your kitchen island into an eye-catching eating space.
The hanging height is adjustable whether you hang it on a slopping or flat ceiling. Another outstanding feature about this light is that it is caged in a durable metal frame with anti-rust wood grain paint and therefore the wires will be protected from dust and wear.
Also, the unit is compatible with several types of bulbs. DEWEBWILS brings your search for a more grown-up light to an end.
5. Linea medium modern black kitchen island pendant lighting
Elevate your kitchen with this metallic pendant light and see results. The set of two Carseti vertical hanging pendant lights is made to give you value for your money because it is durable.
Assembling the fixture is easy and its wiring is hidden so no one will notice the wires. The unit is made to work for vaulted or sloped ceilings and will generously add drama to any transitional or industrial kitchen decor.
Additionally, this pendant light for the kitchen islands has an adjustable light and you can dim it using a dimmer switch.
However, this is only possible if you use a dimmable bulb. The best part about it is that it is compatible with a number of smart bulbs. Get these lighting fixtures and enjoy gorgeous pendant lighting in your kitchen.
6. Layered pendant lights for kitchen islands
Shift from the general kitchen lighting and bring this idea on board. Your kitchen work area will be well lit by these ceiling lights and you will go about your culinary tasks with ease no matter the time of the night.
The set is the best island pendant light for your kitchen sink, counter, and dining room. Their style is unique and will add an ambient look to your space.
These pendant lights are versatile and you can use them on your dining room table, bathroom, or other areas that you want to. You can trust them to turn your kitchen into a paradise that you have always desired in your kitchen.
7. Industrial ambient lighting for kitchen islands
If you have been searching for sleek, simple, and minimal lighting for your kitchen, this idea will sort you. These lighting fixtures are fixed in the ceiling and well distributed to generously cover your kitchen island. They are modern task lighting fixtures and the best for smaller spaces.
The other outstanding feature of these lights is that they are long-lasting. Since they are fixed in the ceiling, there is no chance of them being easily damaged.
They also come in a variety of colors and therefore you can get the one that will perfectly fit into your kitchen decor. Make a wise purchase of these lighting fixtures and have a stylish kitchen island.
8. Hang a light over your dining table
Sometimes you need some warmth when having your dinner. These pendant lights will not only offer some illumination but will warm up your space.
Its design is also unique and made to add style to your kitchen's dining area as well. The fixture carries a number of lights and therefore the light will be well distributed in your space. Hang the pendant light on the ceiling and you will love its performance.
9. Glam your kitchen up
Hanging this chandelier in your kitchen is the best thing you can do. The pendant light is fancy and will give your space a likable illumination.
This will be an eye-catching piece in your kitchen and it is not designed to cause any obstruction since the framework is open. This pendant lighting will stand out pretty well.
10. Majestic yet simple pendant lights
Make your gray-themed kitchen interesting with this set of pendant lights. They are generously designed to bring a sleek look and are caged under beautiful golden metallic covers.
If you have been searching for pendant lights that will make your kitchen island warm and welcoming, this is the perfect fixture. Your dining moments will never be the same under them.
11. Pendant lights with vintage vibes
These pendant lights bring a vintage vibe into your kitchen and break the boredom. The fixtures will dominate your space be it the sink or the kitchen dining area.
The set of two features two big bulbs attached to rustic holders with a black finish. You will feel the impact of these pendant lights in your kitchen and get value for your money.
12. Caged pendant island lights for modern farmhouse kitchen
You have the option of breaking the boredom in your kitchen by investing in these amazing kitchen pendant lights. Their geometric shape will make a statement on your island.
The Lights are sheltered in glass and you will love the modern touch they bring to your kitchen. Also, these fixtures are big and you might not require additional lighting in your kitchen thus saving on money and energy. Get value for your money by buying these units.
13. Golden glass Pendant Lighting
Do you have a big kitchen and you are wondering how to light it up? This glass pendant light will simplify your kitchen and generously brighten up your island.
The four hanging lighting fixtures are well spread and made to blend with most modern kitchen themes. The glass shade is hung using metal hardware that boasts a black finish. You can trust these pendant lights to transform your kitchen drastically.
14. Hanging Kitchen island lantern style pendant lights
Grab these two pendant lights, add them to your kitchen island and you will be glad you did. They will give it the update it has been missing and lighten up the whole space.
The two lights are designed to shine over your kitchen counter. If you adore a modern house and don't have one, these pendant lights will bring a modern touch to your home.
15. Rustic geometric black pendant lights
If you have been searching for something that will create a comfortable and cozy experience in your kitchen, the search ends here.
These pendant lights are a game-changer thanks to their geometric shape that takes over your space by giving you the lighting and style you would want from a modern lighting fixture.
16. Grain Pendant light
This is a chic pendant light that will elevate your kitchen island with a distinct look. It is designed for a modern kitchen and its style is out of this world.
The caged bulbs are attached and well distributed to a metallic frame and will cover your kitchen island with the brightness you have been desiring. There is absolutely no regret in buying this pendant light.
17. Vintage chandelier for country style kitchen
Finish your kitchen space well by adding these three lights. They will plug in well in your kitchen and light up the dining room table just the way you have wanted.
The lampshade has a dome shape that exposes the bulb below it adding an aspect of beauty to give the space an ideal look. The best part of these lights is that they are versatile and will fit in well either in your bedroom or sitting room.
18. Go for chrome lights in your all white kitchen
A white kitchen is fresh and glamorous always but you can make it more appealing by going for these pendant lights. They have a geometric design with bulbs enclosed in a metallic silver framework.
The set contains three fixtures all of which are well distributed over the sink and island. You can adjust the hanging height to suit your preference. Do you need proof of the power of white color? This pendant light will pull it out all in your kitchen.
19. Farmhouse sphere pendant light ideas
This kitchen lighting fixture is made to make your kitchen inviting. It accentuates the space well especially during the evening hours.
The lighting will come in handy if the ceiling of your culinary space is short and will turn it into a work of art. Give it a try and see how it goes.
20. Try some orbs
You have a sleek kitchen but don't know what to add? These pendant lights won't disappoint you.
They are cool and won't overpower your kitchen island or sink. The simple lights are the best you can have for your modern kitchen.
21. Add charm and class to your kitchen island
Who said light bulbs have to be open? Enclosed lighting bulbs also look awesome and that's why you should try this set-out.
The bulbs are enclosed in a brass shelter which is attached to a silver hanging frame. The shelters are broad and will ensure that your kitchen island has all the light you need when fixing some dishes for your family.
22. Add some Moroccan vibes to your farm kitchen
These are the perfect pendant lights that you should go for if you wish to have a brighter island. They distribute light well and are ideal for big spaces.
Although they have a minimalistic look, the pendant lights will give your kitchen a perfect aesthetic design.
23. White lanterns pendant lights
Lanterns might be traditional but they still boast a modern and classic touch. This is why you should try this lighting unit in your kitchen.
It is designed to enhance your kitchen decor no matter how sophisticated it seems. This set works well even for smaller kitchens and therefore you should not hesitate to buy it.
24. Ambient kitchen island lighting with boho charm
If your kitchen is not so small or too big this pendant lighting will work well. The two fixtures will offer enough light for your kitchen island and the rest of the kitchen.
This is a versatile and unique kitchen pendant light idea and you can't go wrong with it.
25. Woven Accent pendant lighting for kitchen island
Explore a little bit with this pendant light and you will be glad you did. Its basket-like shelter makes it unique and you can easily turn the lights on.
The unit is best suitable for open space and it will bring a great transformation giving you a beautiful kitchen.
26. Recessed and pendant light
Sometimes you will need to diversify and get a number of lights in one place.
These types of pendant lights go well with small tube bulbs and you will like the transformation it brings. The touch of recessed lighting blended with a pendant one will add versatility to your kitchen.
27. Lower the lights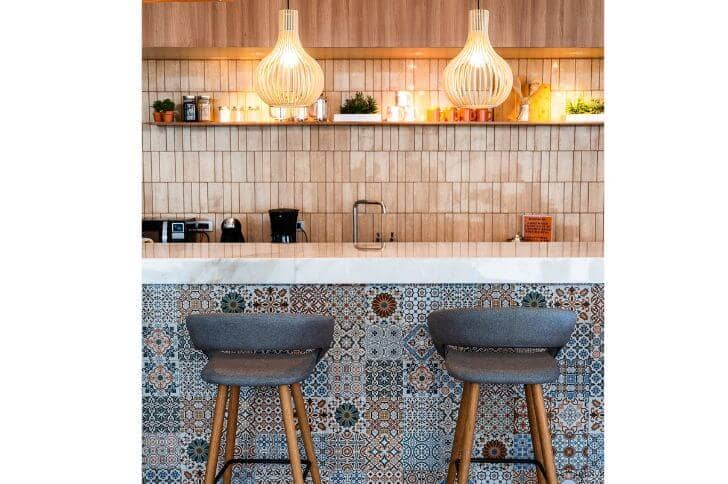 This pendant light will set the mood for you in your kitchen since it hangs close to your culinary space. It is a complete lighting solution that will illuminate your kitchen island the way you have always wanted.
The over the cabinet lighting fixture will give a great effect on your kitchen island by shining enough light on it.
28. Go circular with chandelier lights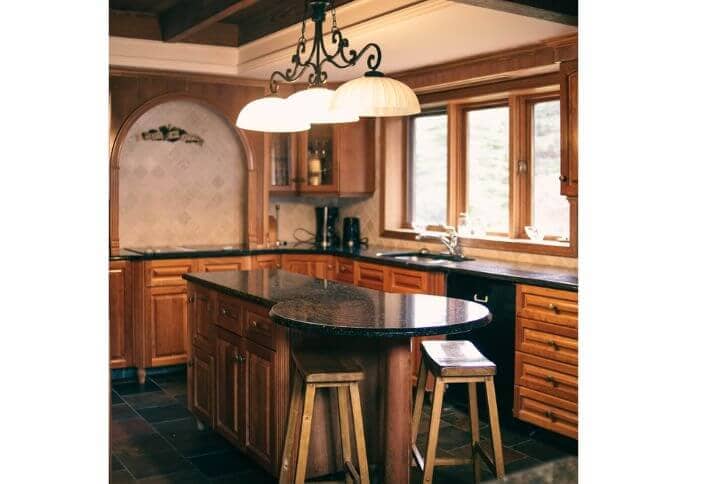 Perfect lighting for a small kitchen island. These pendant lights are designed to illuminate your wooden space and bring a shining effect to the whole of your kitchen.
Their light reflects generously on the wooden cabinets and you will love the warmth it adds.
29. Modern Circular Pendant lights For Kitchen Dining Room
This fixture has a number of lights and will make your dining area exquisitely beautiful. The light bulbs are encircled in a clear glass shade and will offer ambient lighting.
Having a number of lights also makes the pendant lights a good task lighting since they spread the light sufficiently over your space.
30. Practical down pendant lights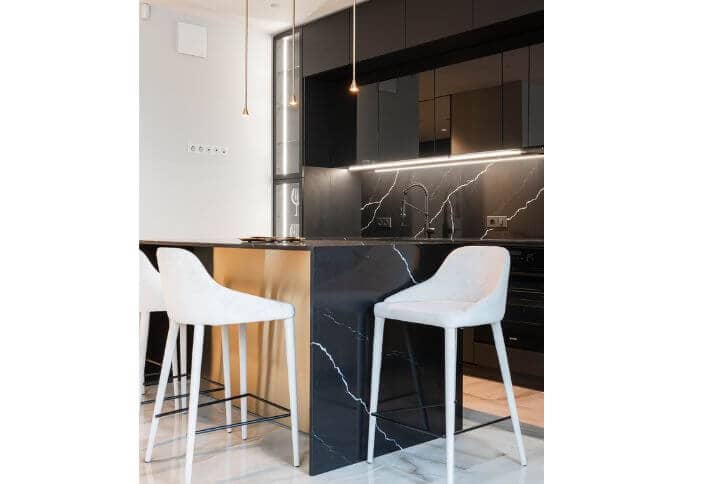 Want something that will make a subtle statement in your kitchen? These kitchen pendant lights will sort you. One outstanding feature about them is that they don't take much space and will perfectly serve a small kitchen.
However, they offer strong lighting no matter how small they may look and will distribute it evenly over your space. This pendant light will also come in handy if your kitchen has a high ceiling.
31. Pendant light with a linear style for rustic kitchen
This unit will meet all the lighting needs of your kitchen island. It is designed to work for small and big kitchens since it has a number of lights.
You don't have to worry if your kitchen is rustic because the pendant light boasts a modern look and will add a contemporary style to it. Its lighting is also focused thus making it the best for your kitchen island.
Conclusion
We have come to the end of our article and you now have a list of the best kitchen island pendant lights. The fixtures will meet all your lighting needs more so for the island which is a focal point in a kitchen.
The lights we have discussed are practical and will add a touch of style and beauty to your kitchen decor.
 You can trust them to play a significant role in your kitchen at any time. However, when choosing one you should consider the size of your kitchen. We hope this has been a helpful and timely read.