Do you want to upgrade your bedroom? Wondering how you can bring the future interior design to your current bedroom? A bedroom is an essential part of your house and for that reason you want to make it as comfortable as you can.
Futuristic theme is the new craze and many people are yearning to be years or even a decade ahead when it comes to interior decor.
There are many aesthetic futuristic interior designs for both men and women. Futuristic bedroom designs range from sci-fi style to underwater style and many other designs. The choices are unlimited and you can choose from a wide range of futuristic design ideas.
In this article, we picked up eleven incredible futuristic bedroom ideas that you can draw inspiration from and bring the future theme to your bedroom. Good thing is that most of these world class ideas are inexpensive and thus you don't have to break the bank to upgrade your bedrooms.
1. Bright Bedroom With A Curved BathTub
Source: juliely.homes
Who wouldn't want this beautiful futuristic bedroom with a curved bathtub on the window offering you a beautiful view when immersed in the water? We love the lighting besides the bathtub bringing in a modern and classic touch in the space. The combination of white and gray colors in this bedroom idea makes the bedroom stylish and luxurious.
You might want to add a comfy seat and a faux plant at the corner. You want to create as much comfort as you can because your bedroom is your little haven.
2. Masculine Bedroom With A Floating Bed
Source: armaradadesigns
If you want to create a masculine kind of a bedroom but still make it as attractive as possible then this idea can help you draw some inspiration.
If you're a mum wondering how you can create a futuristic bedroom for your son then this bedroom idea with some blue bed sheets is a brilliant choice.
The floating wall bed and the mesh walls bring out nothing less of masculine energy to this space. The white flower planters with the green plants add some life to the simple masculine bedroom.  This bedroom idea is ideal for you wanting to surprise someone with a stylish bedroom makeover.
We love the way the lighting leaves a statement to remember while brightening the space. There's no doubt this is one of the best futuristic bedroom design ideas because of its simplicity.
3. Bedroom with Geometrical Walls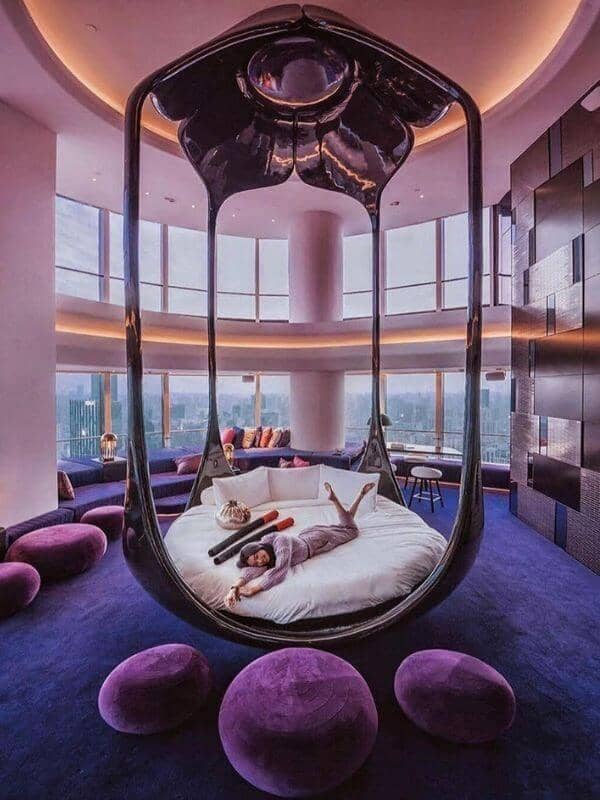 Source: shltr
If you're a type of a minimalist person and want to transform it into a futuristic bedroom while still maintaining the minimalist design then this is for you.
This bedroom has plain cream walls combined with lighting making the space so bright and beautiful. The geometric walls and the corner bedroom office look simple yet elegant. You don't need expensive furniture to create this amazing futuristic bedroom.
Related Read: Earth tone Bedroom Ideas you can borrow from
4. Futuristic Bedroom with Walnut Rays Bed
Source: arcflydesign
Turn your boring bedroom space into this unique walnut bed design. Walnut wood is known to be durable and thus your bedroom can remain stylish in the future with this piece of furniture.
The curved bed with integrated end tables are great for keeping your phone and the books you read at night. Get some morning rays with some walnut vertical blinds that bring out an exotic look in your bedroom space.
You don't need to have a lot of things to get your bedroom stylish and yet trendy. In fact, this idea is not stylish but a future dream to most people
5. Smart Bed With Built-in Projector
Source: festim.toshi
One thing with futuristic bedroom interior designing is trying to go beyond the current trend while creating comfort at the same time. If your goal is to skyrocket your bedroom decor game to the future then this smart bedroom should inspire you.
The canopied bed with an inbuilt projector combined with lights under the bed illuminates the dark themed bedroom so well.
6. Unique Platform Bed
Source: Zaynafurnitureguyana
Round beds are slowly becoming the new trend. One day you might walk into a store and find only spherical beds.
If you didn't like the other futuristic bedroom designs you might love this futuristic bedroom idea with a round leather bed with innovative light.
This is another minimalist futuristic bedroom design but of course the round leather bed and the grey rug makes it unique.
7. Rustic Bedroom With Bathroom Above the Bed
Source: peggy.herzog
This futuristic bedroom design is perfect for those with small bedroom spaces. If you feel like your bedroom space is small just fit for the bed and you have little space for the bathroom then this bedroom design is for you.
Have your bathroom above your bedroom and add some natural wood in your space with a piece or two of furniture. What we like the most is the industrial lighting and the floating plants on the bathroom space.
Also read: Forest bedroom ideas
8. Adopt White And Sophistication
White is beautiful and it sprinkles brightness in every space. If you want something simple yet elegant then you might live in this combination of white and a little bit of gold. Spruce up your futuristic bedroom with a plant or two. You might want to add a gold painted ceiling fan for a sleek style.
9. Bring the Wild into Your Bedroom
Most interior design experts are trying to maintain the ancient design when embracing the futuristic style. This futuristic bedroom idea is a good combination of farmhouse interior design and futuristic design.
The animal head above the headboard and the modern design minimalist lamps on the bedside tables makes the room look stylish.
10. Futuristic Bedroom Design With A Wooden Bed
One thing with futuristic bedroom designs is that they tend to be bigger and most of them have furniture like seats, tables and other things. A good example is this bedroom design.
The room has all the comfort you will need for your bedroom from seats to a small relaxing point at the windows with some few pillows in that area.
You might get tired of lying on the bed and just want to have a beautiful view while meditating or reading a book and thus the window seat offers you that comfort.
Let's talk about the bed. Who wouldn't love a bed with inbuilt bed drawers? Futuristic bedroom designs shouldn't cost you a fortune. A simple wooden bed with bed drawers on the sides can help you store some of your linen and other things.
11. Futuristic Bedroom With Theater Lights
How about living in the theater? The interior design of this bedroom is a perfect example of a futuristic bedroom. Add some theater lights above your headboard and a wall art to spruce up the space above your headboard.
A combination of white and black bedding with printed elements make the bed look gorgeous. A white flooring and white walls with some black and a well designed ceiling brings out a perfect futuristic theme.
Bottom Line
The outcome of your bedroom depends on so many things but the space you have to work with is essential. You might have a great floor, ceiling walls and furniture but if your room looks crowded then the theme might not make much sense. If you have a small space to work with try to create underbed drawers and have a perfect futuristic bedroom.