A pergola is a perfect place in your home to unwind. There are many ways you can enhance it and have it serve its purpose well and one of them is by incorporating planters. One unique thing about pergola planters is that they hold beautiful flowering vines and therefore they add color not only to your pergola but also the landscape.
Pergola planters are different in shape and size and you should choose one wisely depending on the size of your pergola. You might also consider your taste and preference in terms of vines or plants and their differences when choosing one.
Your budget also matters though some of them are DIY. In this chapter, we shall discuss some of the best pergola ideas you can go for. Keep reading for more detail and know what will be perfect for your pergola. 
1. Raised Garden Bed Pergola Planter
Grow some herbs in your patio, garden, or balcony in this wooden pergola planter. It is rectangular in shape and will make a statement in your pergola even though its finish is unfinished. The unit has a capacity of 300lbs and six legs and therefore it is stable.
One of the outstanding features of this planter is its proper drainage. It doesn't hold any water and therefore the soil remains fresh while your plants are protected from rot or root damage.
Additionally, this unit has an ergonomic height and therefore you won't have to kneel or bend when attending to your plants. It is also spacious and will give your plants enough breathing space.
2. V-Resin Taper Planter
Decorate your indoor or outdoor space with this planter which is strongly built. It is made using resin, plastic, and polyethylene materials and its square shape will save space in your pergola. Veradek features removable shelves which makes planting easy.
You can be sure to have this unit for a long time because it is resistant to frost, cracks and you won't see it fade thanks to the UV inhibitors that it boasts. The unit has two planters and it's worth your money.
3. Unique Outdoor Planters
Add beauty to your pergola, patio, or garden with this great planter. Its gray color and polished finish make it a centerpiece in your garden thus improving its curb appeal. This is one of the best hanging planters for pergolas you can go for.
If you want to shift from hanging baskets, here is your easy-to-install and stylish option. Besides the beauty, the unit is durable thanks to the commercial-grade material that makes it.
You won't experience any cracks, peels, or fading in it. It also drains water without staining and therefore your pergola will remain tidy.
4. Resin Rattan Planter For Pergolas
Hang this planter on the posts of your pergola and transform it into an appealing and beautiful space. The set of two is an irresistible addition to any outdoor or indoor space. Its style is unique and maintaining it is easy especially because it doesn't peel or rust.
The unit has a Rattan-related look with an incredible appearance. On the inside is a sealed bowl and drainage plug that makes it ideal for either indoor or outdoor use.
Related Read: Here is how to grow bamboo in containers for privacy in patio or pergola
5. Hanging Pergola Planter Vase
Create some modern charm and accent in your pergola with this gold and white hanging planter. It is made to accommodate any plants, especially flowers.
Though it's simple-looking, the unit will dominate and warm up your space with its sophisticated design. The vertical design is meant to make it conveniently save on space.
Another feature is the drainage holes fixed on each flower so your space won't be messy. This is the best planter you can have for outdoor or indoor use.
6. Hardwood Pergola Flower Box
This is one of the best pergola planter ideas that you should not hesitate to consider. The planters are made of hardwood and treated with streak oil making them durable and resistant to water. It is a versatile unit and therefore you can use it in your garden, patio, or backyard.
The natural color of these planters for pergolas makes it easily blend with your decor and furniture. One amazing feature of this unit is space and money-saving.
You don't have to break the bank. Also, you will easily assemble it thanks to the instructions provided. Another interesting feature is the removable bench on which you can sit while attending to your plants.
7. Large Ceramic Pergola Plant Pot
Add style and beauty to your space with one of the pergola planters. It is made of ceramic and boasts a blue and white color. It's a floor-standing pot seated on a four-post shelf.
This modern plant pot is not only decorative but also easy to assemble and doesn't take much of your space. Its stylish look is enhanced by the clean sleek line and a blue ribbon detailing.
Also, the pot has an outstanding finish thanks to the ceramic build. The finish is shiny and attractive making a statement on whichever side you place. Maintaining this pergola planter pot is easy because you just wipe it with a wet piece of cloth.
This pot also has a drainage hole that goes a long way to ensure that the soil doesn't retain water for long thus protecting your plant from root damage. Add this unit to any site within your home and you will be glad you did.
8. Plastic Hanging Planter For Pergolas
Give your backyard a different and unique appearance with these plastic and steel planters. They are round in shape and you can hand them in any corner within your home.
The hanging planters allow root penetration thanks to the drainage holes. The hole also plays the role of aeration and therefore your plants will have enough oxygen.
Additionally, the unit is light, sturdy, and has strong chains to keep it stable. Make your plants happy by growing them in this beautiful hanging pot and get value for your money.
9. Go with Hanging Planters
Elevate the look of your pergola with KOTAO planters and enjoy 100% satisfaction. you will like it for its elegant and modern hanging style. The diverse styles are suitable for your balcony, house, or terrace.
The makers of these hanging pergola baskets had their drainage in mind because they fitted it with four drainage holes at the bottom. Therefore your plants will not be suffocated and therefore you can use them inside or outside without worrying because they are adjustable.
Another amazing feature of these pergola plants hanging baskets is their versatility. It is suitable for artificial or natural flowers and plants and you will have an amazing time of planting with these baskets as your choice. They are also small in size and will be great gifts to your loved one
10. Vinyl Raised Planter for Pergola
Our list of pergola planters can't be completed without mentioning the Cambridge planters. Browse them on the internet and the review comments will prove that buying them is a wise move. It is made of vinyl and has a rectangular shape and white color.
Having this unit around will transform your site. You can safely grow your plants in the units since they feature food-grade BPA.
Additionally, they are easy to maintain and will perfectly complement any outdoor corner where you place them. Moreover, it is stable thanks to the four posts on which it stands.
11. Green Pergola Pots Ideas
Explore your options and you will love this free-to-use green pergola pot. It is simple yet well furnished and will create an attractive site in your pergola.
No hanging is required since it's made like a vase to sit on the floor on top of some indoor furniture. This pot will provide growing space for several types of plants at the back of your home.
12. Pergola Planters Boxes
If you are looking for the perfect way to grow plants in your pergola, this is one of the best ideas. These boxes are square in shape and their white color makes them irresistible to have around.
It is a set of two and will provide your plants with the right environment to thrive. The boxes are also big and you can therefore grow as many flowers as you want.
13. White Pergola Boxes, Pots, And Baskets
This is one of the best ideas for planters that you can go for in 2021. It gives you various options because you can choose the box, pot, or basket.
Also, you can blend the three units and give your pergola a new look. The basket is woven and painted white while the box is made of concrete and it's big enough to provide enough surface for your plants and flowers to grow. This idea will help you improve the appearance of your pergola.
14. Patio Pergola Flower Planters cart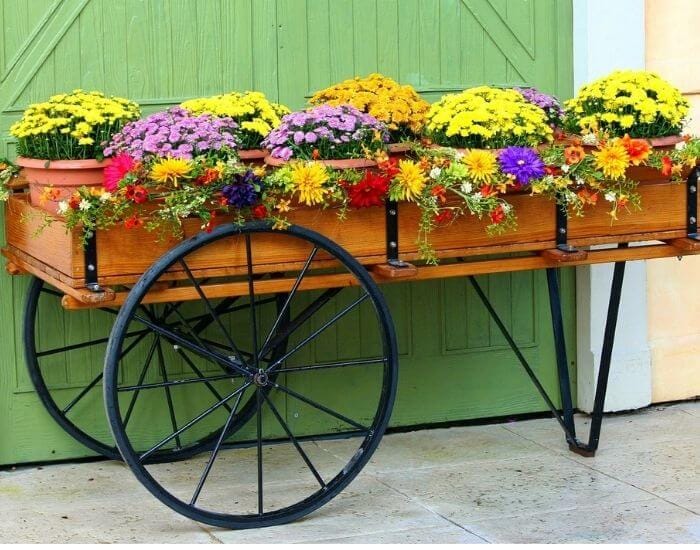 Bring tranquility and decor to your backyard with one of the most unique flower planters. This unit will complete your home with a bed of beautiful flowers in the carriage.
The flower cart sits on three metallic stands and it's spacious to hold as many natural flowers as you wish. You may move it around different locations around your home because the wheels are movable. No better way to brighten your landscaping than with this pergola flower planters cart.
Conclusion
We have discussed the best pergola planters to choose for your pergola. They come in different sizes, designs and are priced differently.
Also, the units are made using different materials and its up to you to choose what works well for you.
Most of them are available on Amazon and the clients reviews therein will confirm why we have recommended them to you. Make an informed purchase and buy a pergola planter that will give you value for your money.