There is something about an old book that just makes it so appealing as a decoration. Whether it's the beautifully aged cover or the delicate spine, there's just something special about displaying an old book in your home. Not to mention, they make for great conversation starters!
If you are looking for old book decor ideas, this article will not only give you ideas but links to step-by-step guides on how you can create a similar look in your home. From old book coffee tables to book murals to gorgeous lamps, there is an idea for everyone. Ready to explore? Let's get started
Old Books Decor Ideas
1. Try a unique shoe storage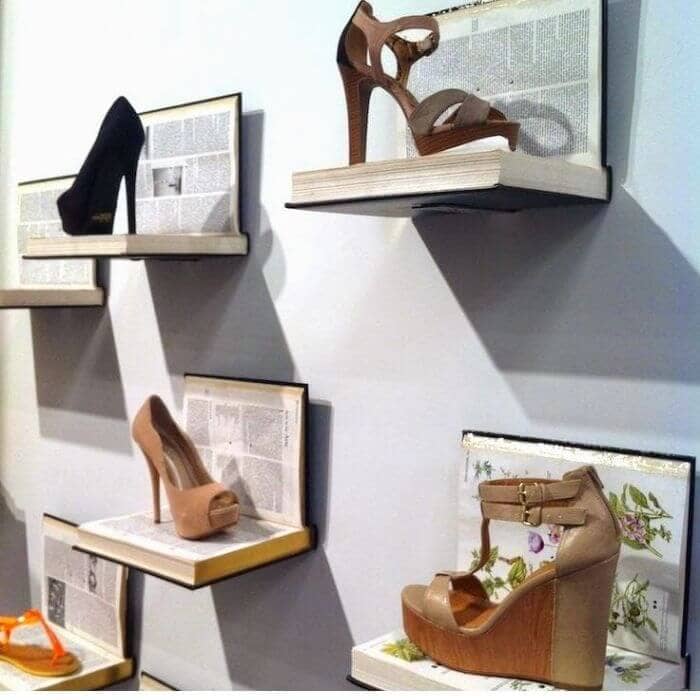 Have some unique shoes you want to display? I'm a shoe lover. From heels to wedges to beach sandals, I have a few pairs that I'd love to show my girlfriends.
I looked around and came across this unique idea by Ecomanical. Kill two birds with one stone. If you have 10 old books and 10 gorgeous pairs, you are good to go. Stick the old books in an uneven pattern to create intrigue, also opt for different colors to create contrast.
2. Mail organizer old books crafts ideas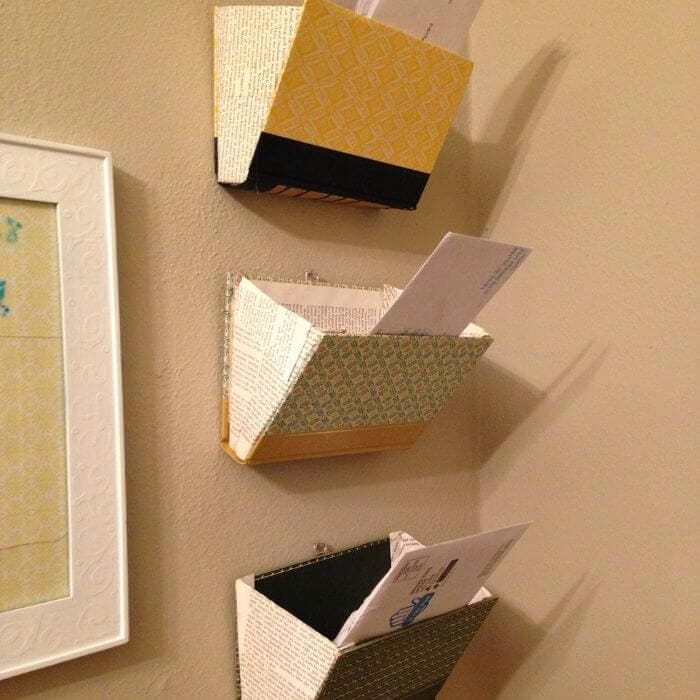 Want to sort your mail? Many homeowners struggle with mail sorting. According to UPS, over 173 million mail is dispatched everyday, that is almost 1 mail per home. To organize your mail, you can use old books to create simple yet stylish mail holders using old book covers.
3. Create a wall mural
Have a lot of old books? Try recreating this gorgeous book mural. 35 books are enough to recreate this space. Also, if you have a garden, you can hang a few flowers around the mural to add color to the space. This idea is perfect for neutral walls and will match any decor scheme.
4. Old book decor for your ceiling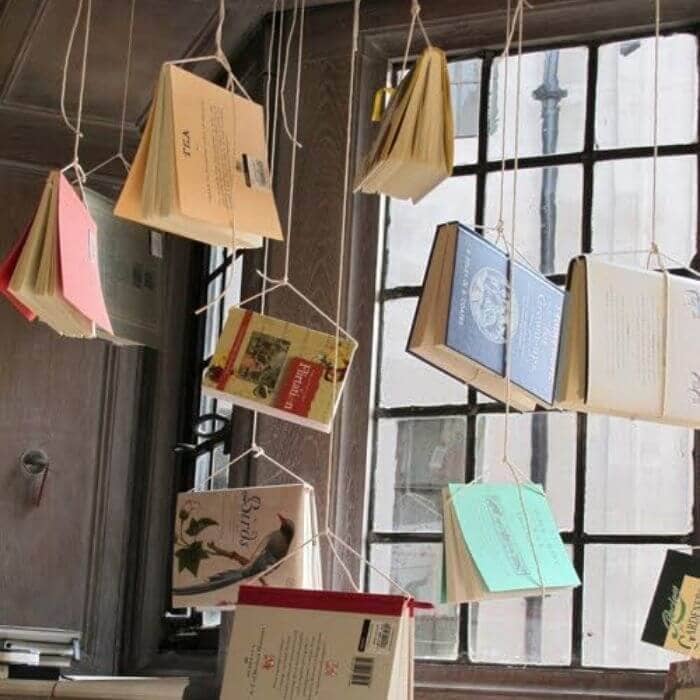 Another diy vintage book idea you should try is hanging old books from your ceiling. Perfect for a suspended ceiling, all you'll need to do is drill some hooks to the wood. Using strings, you can hang books of different genres to show off your taste.
5. Book page craft idea to create a playhouse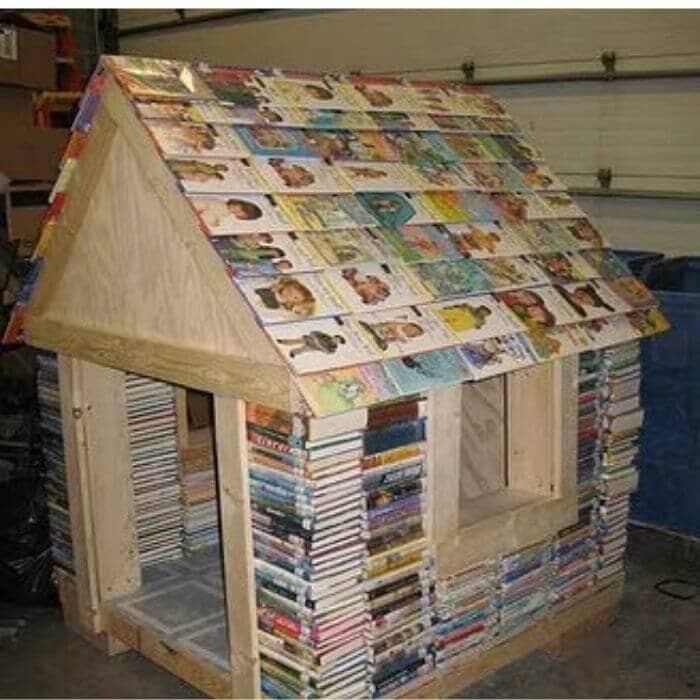 Looking for a fun project to do with your kids? Instead of purchasing a ready-made playhouse, opt to build one with your kids. I love what this artist has done.
Its tiny room is made of different old book covers while the sides have enough space to store your kids' latest reads. The playhouse is sizeable, so kids can play with their toys with ease. This idea will also encourage your kids to read. Perfect book craft idea for families.
6. Book page crafts for ceilings
Hate bare ceilings? I do too. Instead of traditional ceiling decorations, this old page book decor will ensure your ceiling stands out. Now, for this idea you'll have to be careful. You want to ensure the books are light and stick properly to the ceiling. Notice the vintage chandelier, it really adds farmhouse charm to this space.
7. Add farmhouse charm to your space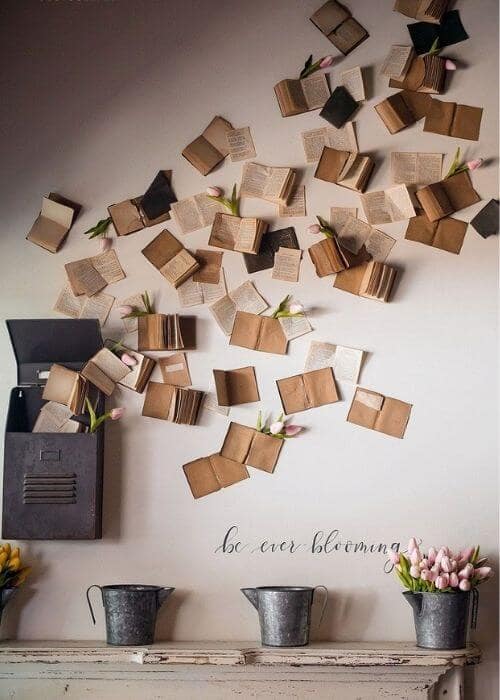 Ever seen a unique idea online and wanted to try it? That is exactly what this crafter did. We love the outcome. You'll need a few metal cans and metal mailbox that add farmhouse charm to the space and 15 old books. Pluck a few pages and stick them to your wall alongside different books. Flowers add cheer to this unique wall.
8. Simple is always beautiful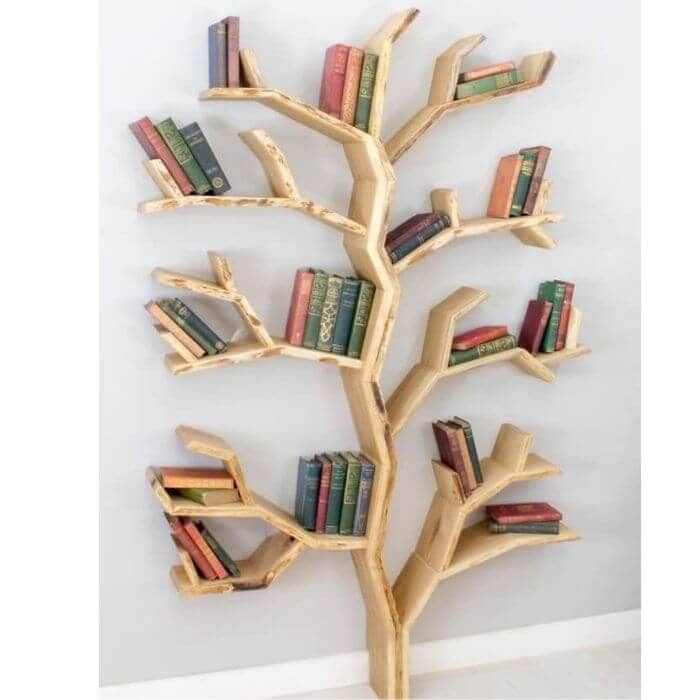 Have some hard cover books? Vintage books are a great way to add a classic look to any room. And, instead of the traditional boring bookshelves, take a weekend off and create this simple yet beautiful piece.
The tree-like bookshelf allows you to display your old books in a simple yet beautiful way. These book wall art ideas are perfect for any bibliophile.
9. Vintage books decor for your side table
There are various ways to style a side table. One of my favorites is using book crafts to create contrast on the display table. Use the book to support other decor pieces. This piece is unique and creates intrigue.
10. Stacked book decor idea for coffee table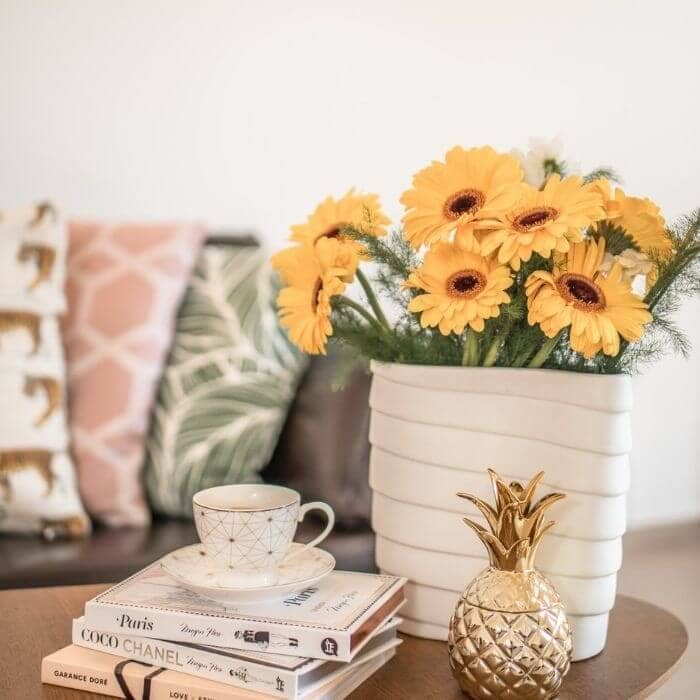 Want something relaxing on your table? Old stacked book decor is a great way to decorate any coffee table. You can stack 3 – 5 books and place them on your table. Flower vase at the back adds beauty to the space.
11. Make garlands
Whether you have old music books or a few books from college, you can diy this old books decor idea at home. You'll need 15 – 20 pages, glue stick, cereal box, glue stick, a few pins, glitter, paint, and some other items.
You can create as many garlands as you wish to create the word you want. We've linked to the step-by-step process of creating this old page book decor piece.
12. Unique photo display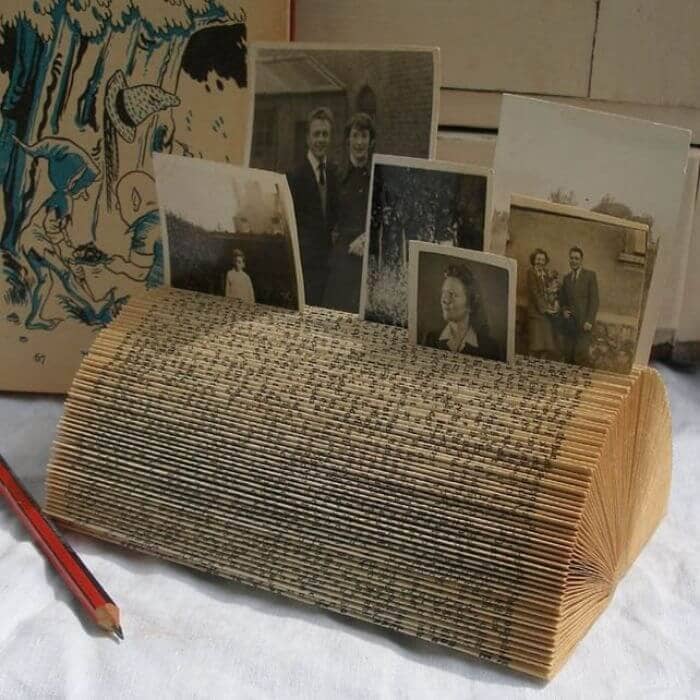 Ever noticed how old photos look out of place when framed? You can use an old book to create a vintage photo display. With a few folded pages, you can display up to 10 photos of your family, vintage cars, and more.
Also, this diy book idea is ideal for anyone who wants to keep their home desk tidy. You can use it to organize business cards or holiday cards.
13. Bell jar book decor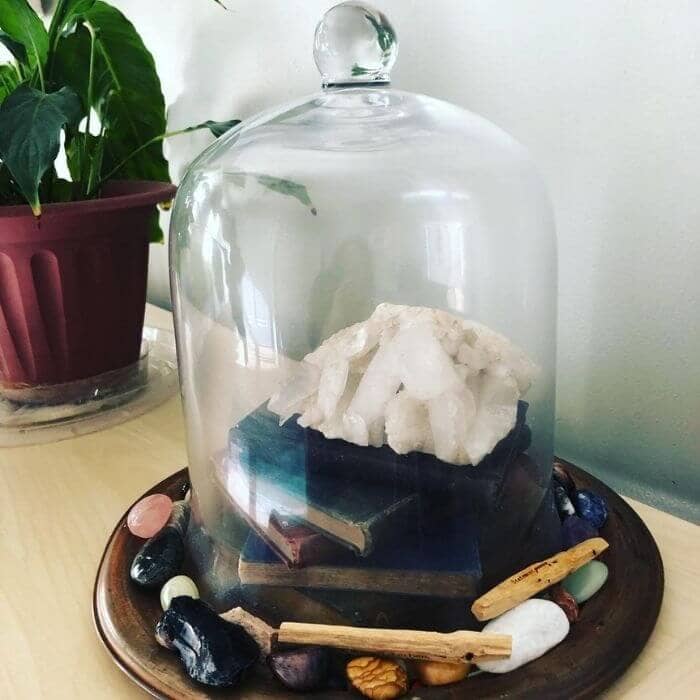 Another book craft idea you can diy at home is this simple yet intriguing idea. You'll need a bell jar, the size depends on the size of your books, but a midsized jar will do the job.
You'll also need a few colored rocks or you can paint some stones, and a rustic wood plate. Place your piece on a side table.
14. Create a timeless music box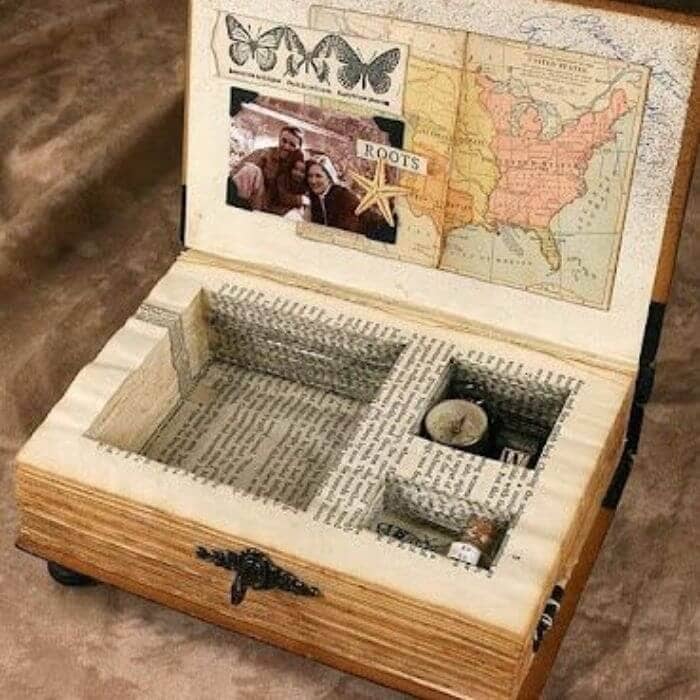 If you want something that will outlive you, we recommend you create a music box from your old hard cover book. Apart from the book, you'll need the music system, keyhole hardware, glue and paper cutter.
For the beautiful angel heart piece, the creator put it together. You can create a similar piece from unused accessories around you. Check the link for a step-by-step guide.
15. Halloween book decor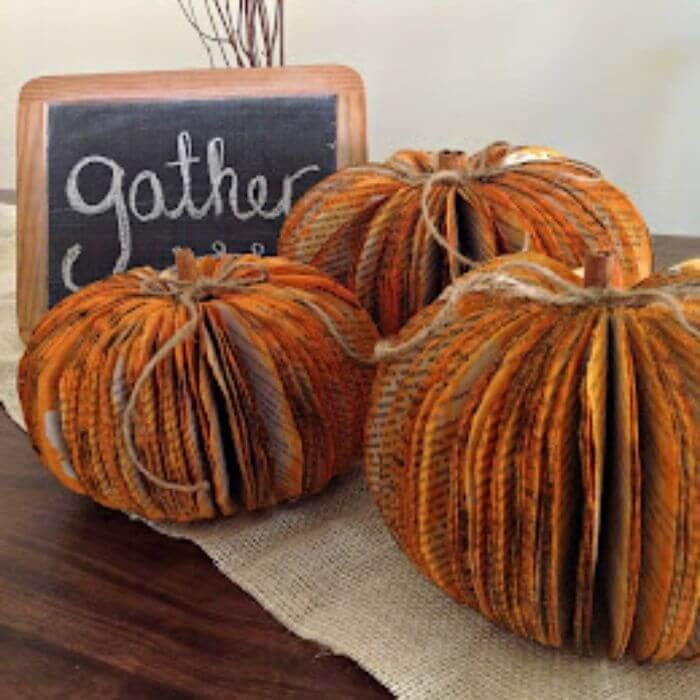 Looking for unique halloween decor? You'll need an old book, paper clips, scissors, hot glue, strong twig, paint brush and orange paint.
Start by tracing the pumpkin shape and using scissors, carefully cut out the shape. Place the twig on the spine to strengthen it then glue covers together. Then carefully paint the edge of the pages and let them dry before hanging.
16. Create a wreath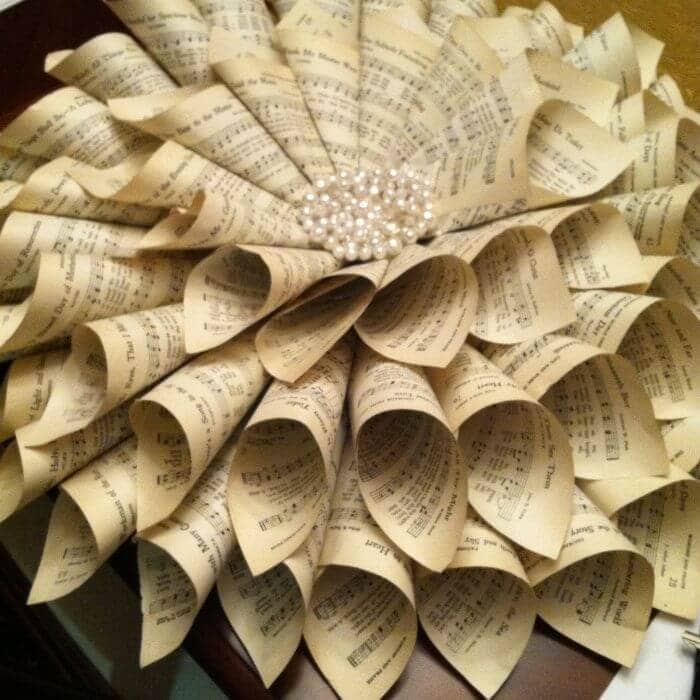 Wreaths are made of different materials. But, paper wreaths are by far the cheapest and easiest to craft. If you have a few old books, you can create this paper wreath to decorate your home in fall. You can paint some of the pages to add drama to your space.
17. Monochrome letter idea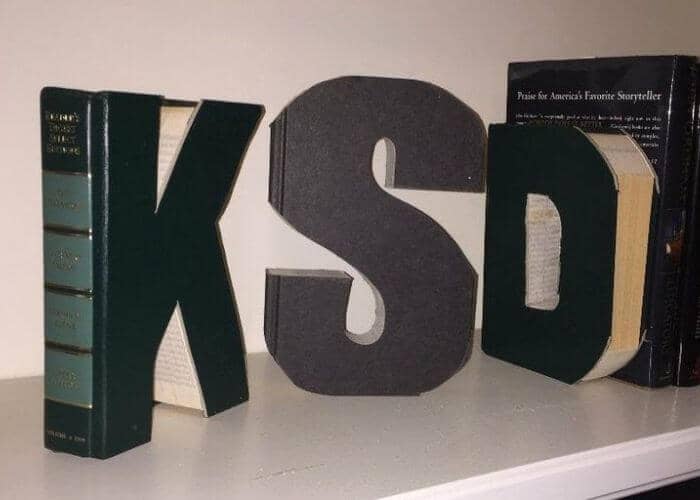 Another great way to recycle old books is by creating monochrome wall decor pieces. You'll need a few hard back books. And because of the book's thickness, you'll need a jigsaw.
Create an outline of the letters you want and cut. I prefer a colored wall sign, so I'll recommend you paint a wall decor piece if you are using books with white covers.
18. Create sticables for your kids
Encyclopedia! The book that has lost its luster due to the many online publications. But, if you come across a few of these vintage books, take them home with you.
You can use images from the books to create stickables that you can use to teach your kids about different types of dinosaurs, birds or more.
19. Jewelry box
We've seen old books creating a music box, pumpkins and now here is an idea to craft your unused books to a jewelry box. This idea is an affordable way to organize your accessories.
20. Turn your old book into a fashionable item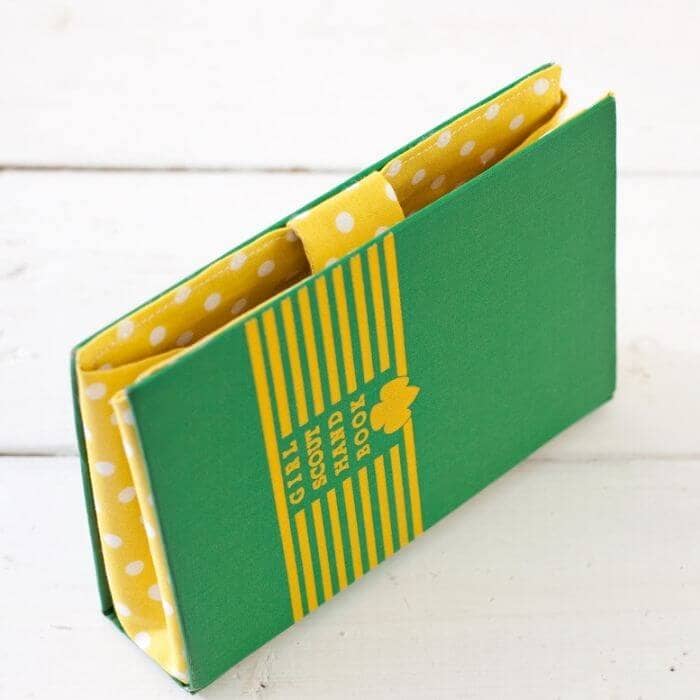 Purse, purses, and more purses. A girl can never have enough. And if you don't want to break your bank getting one to match your outfit, this idea is for you. Using your hard back book covers you can design and craft different colored purses to match any outfit in your closet. A win for us all, ladies.
21. Holiday book decor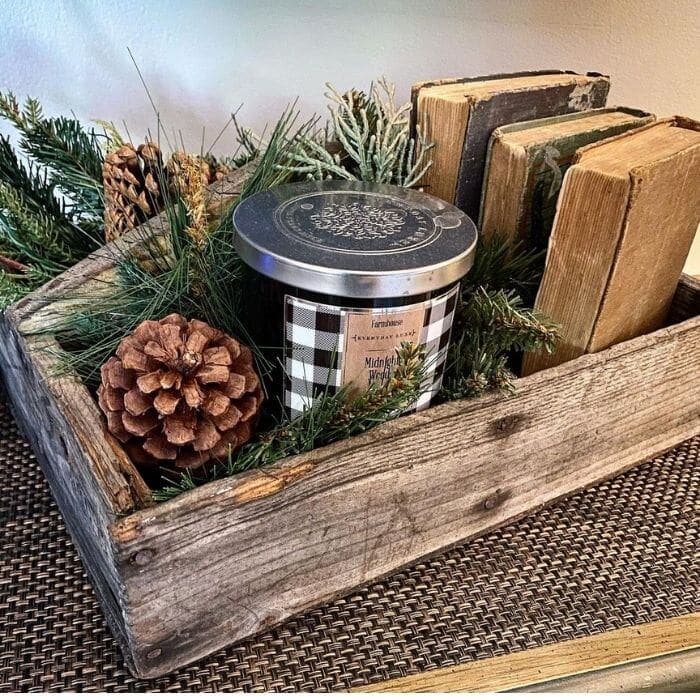 A rustic wood crate, few pine cones and leaves,buffalo plaited can, a few books, this decor arrangement is the perfect way to add charm to your thanksgiving table.
22. Build an invisible bookshelf
If you are a minimalist, you'll love this old book decor idea. Rather than installing traditional bookshelves, which allow you to arrange your books in a specific pattern, you can drill your unused books into the wall. This allows you to stack other smaller books on top of these books, creating an invisible book shelf.
23. Comic book decor ideas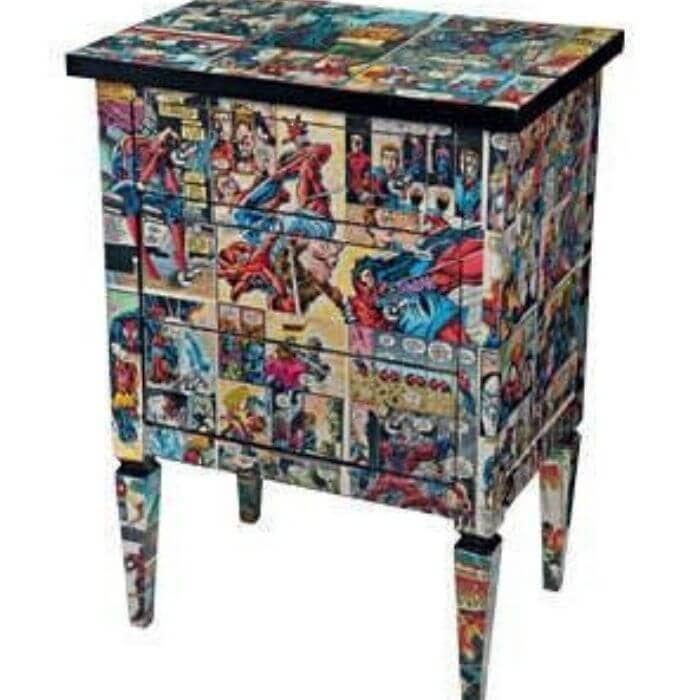 For comic book lovers, you can use your aged comic books to redecorate your coffee table or side table. One or two comic books are enough for a mid-sized table.
24. Bedroom stacked book decor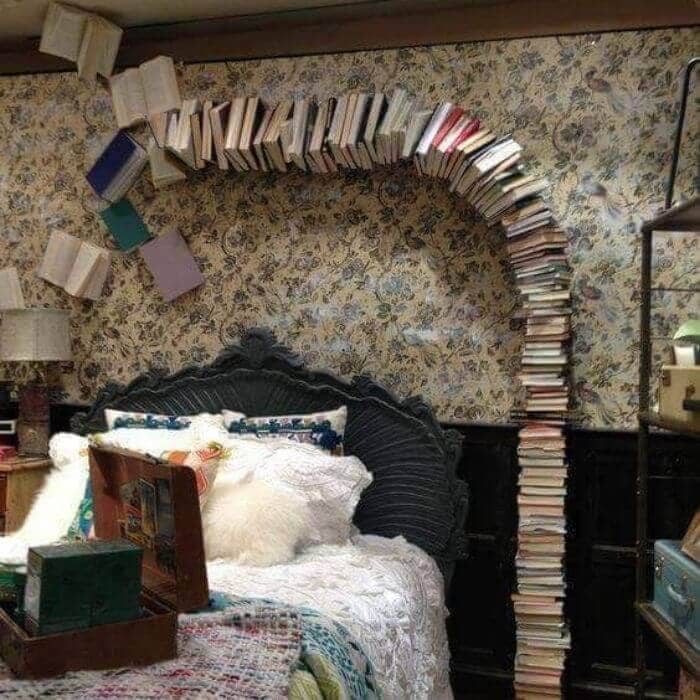 Every bibliophile needs a unique bedroom. With this private space you can stack up books to create an overhead decor piece. It may take you a while to get everything done, and we love what this interior designer has done with their bedroom.
25. Build a unique coffee table stand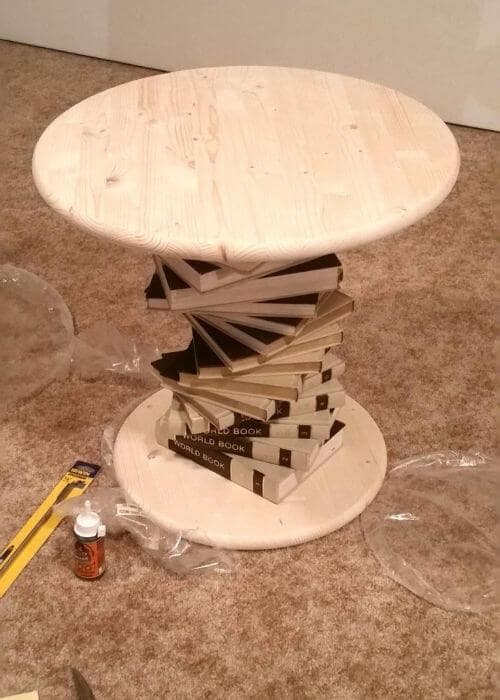 Using a few books, you can create a unique stand for a small table.
26. Build a chair
Another beautiful craft with old books ideas to consider is this piece by theownerbuildernework. This book decor idea will add color to any neutral colored room.
27. Create a vase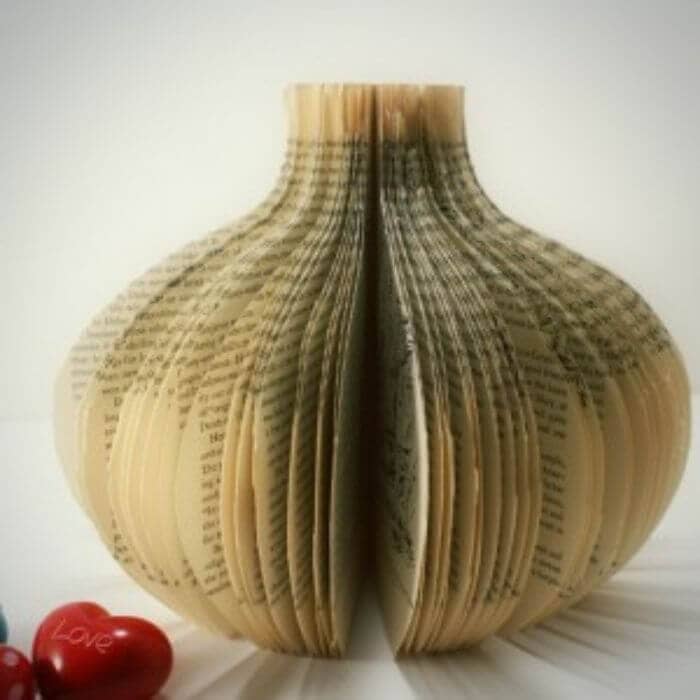 Following the same steps we used to craft the pumpkin, you can design and cut-out a vase from your old books. Color them to suit your living room decor.
Other Old books decor ideas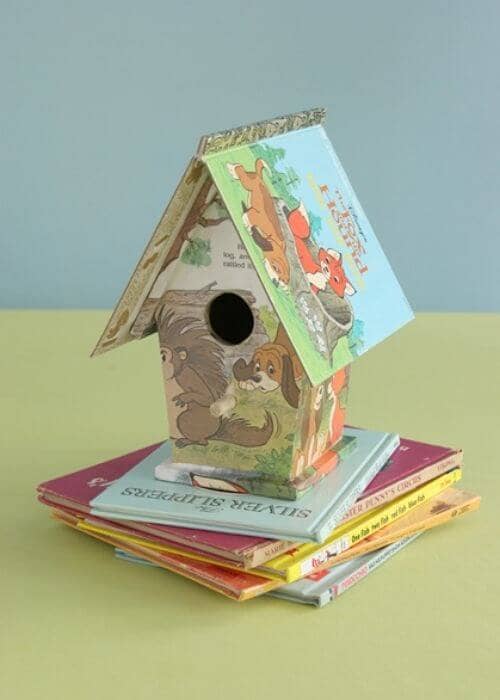 Design and build a birdhouse with your kids over summer.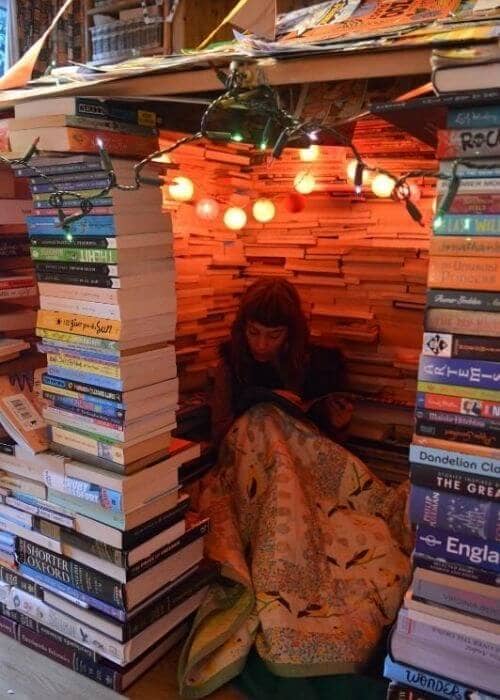 Build a reading fort with your old reading material. I love the privacy it offers.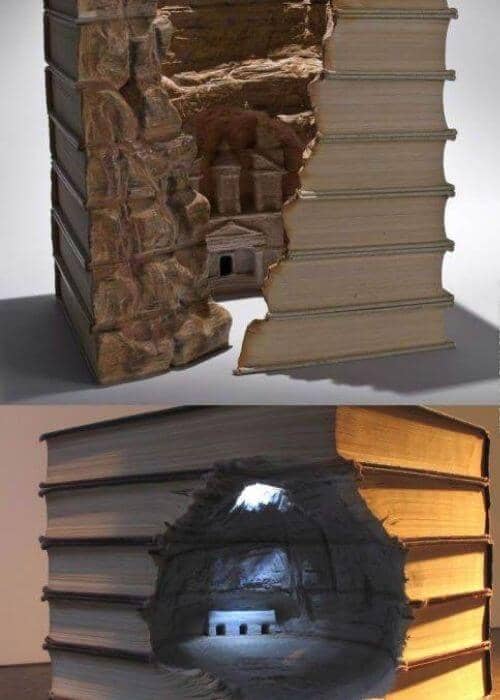 Stack old reading materials and carve it and create unique landscapes.
With two buttons, a hot glue gun, old book, a craft knife and scissors, you can create this gorgeous craft. Great way to decorate your sofa side table.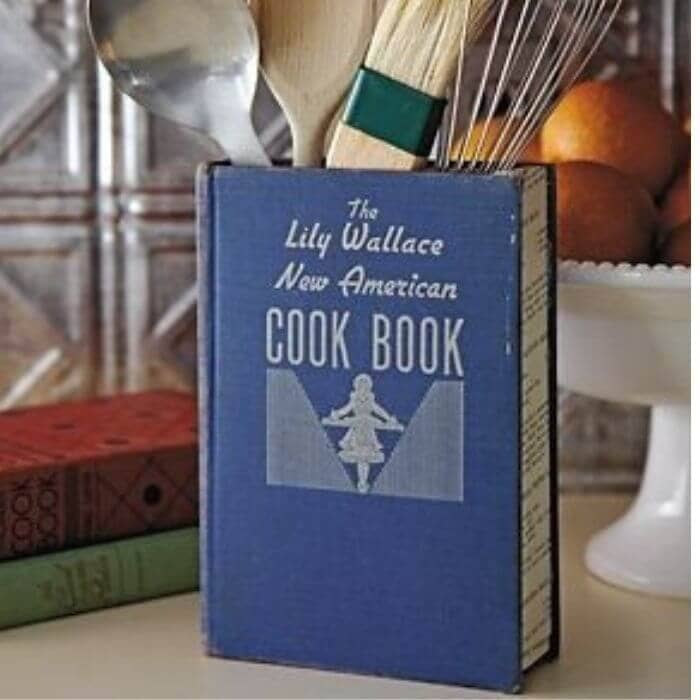 Another way you can repurpose your unused reading materials is by creating a utensil holder.